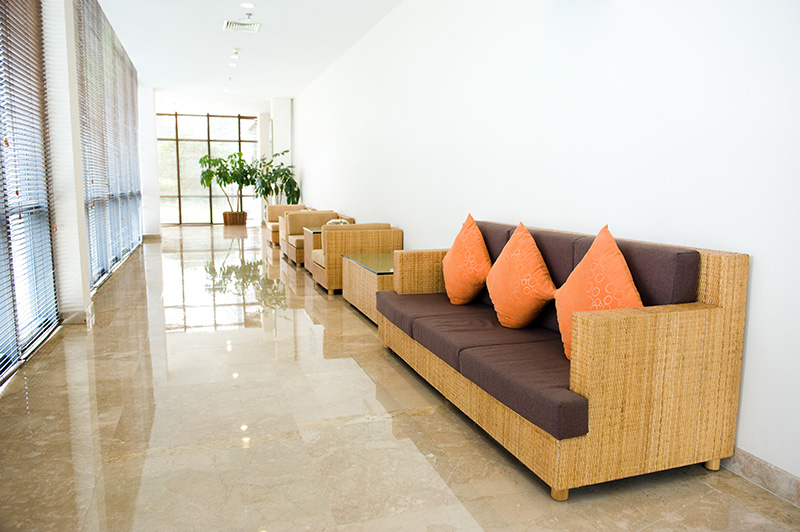 Oct 07 2019
Today, in 2019, the trends in hospitality spaces and flooring are for beauty in practicality.
For flooring, choices include laminate and vinyl flooring, which are budget-friendly ideas that come in a wide array of colors and textures. Laminate and vinyl floorings such as Luxury Vinyl Tile (LVT) can mimic much more expensive options like stone.
Flooring that comes in the form of tiles is also very easy to repair because it's not difficult to replace one or more individual tiles instead of replacing a whole sheet of flooring.
Another choice for the hospitality industry is porcelain tile. Porcelain tile is very hard wearing. It has a higher relative up-front cost and a longer installation, but it has a very long life, so the cost over time is reasonable.
Rubber floors are trending right now. They're interesting, soft, comfortable, easy to clean, and they are a renewable resource. Also, a softer floor like rubber is a safer floor because it offers more traction.
Renovating hospitality spaces
One of the difficulties in renovating a hospitality space is that closing off one or more rooms or floors for renovation can seriously affect the bottom line. Hotels need to be operating 24/7 all year round.
We often mention that when choosing flooring, it's important to consult with professionals like us. Professionals know every type of flooring inside and out, and can help you to make the best choice in line with your goals and budget.
We also offer a number of other services including turn-key renovation, which could prove particularly useful in the hospitality industry.
From design to installation, painting, and moving (and ongoing floor maintenance) we can help you with your project from start to finish. If your business requires a particularly efficient and trouble-free renovation, consider having us do the whole project. We understand the challenges of your renovation in the hospitality environment, and we can help you make all the right choices.
We have been doing this for 35 years. We're good at it, and we're experts at renovating spaces that are occupied—like hotels.
We are experts at specifying the right product for your commercial flooring projects. @EagleMatFloors is family owned and operated, providing sales and installation of commercial flooring products to the Washington DC Metro area for over 35 years. We specialize in renovating and retrofit of facilities in the Corporate, Education, Government, Healthcare, Hospitality, Multi-Family and Public Spaces.
For more information please contact us at (301) 762-2000 or sales@eaglemat.net
Please follow and like us: