Whether online or in person, businesses get one chance to make a first impression on customers. Whether it is the home page of a website, the front door of a retail store or fitness center, the reception area of an office, or the lobby of a building or other facility, this initial interaction can have a lasting impact on how visitors and customers see your business or property. You could offer the best products, services, facilities, or amenities in the world, but if potential customers or residents walk past your building and see a sloppy and unappealing entrance, or walk inside and find an equally subpar interior, that first impression may turn out to be their last impression of your business.
Why Carpeting and Flooring Is the Foundation of a Great First Impression
When envisioning and crafting the look of an entrance, lobby, foyer, or other areas that visitors first encounter, flooring should be one of the main considerations along with furniture and fixtures, color schemes and artwork. The carpeting and flooring you select ties everything together. A visitor may quickly pass an attractive display or pretty picture of the wall, but your carpeting and flooring will be with them with every step they take. Substandard, shoddy, or unimpressive flooring will diminish all your other efforts at presenting an attractive image of your business and facility.
How Eagle Mat Commercial Flooring Can Help You Make the Best First Impression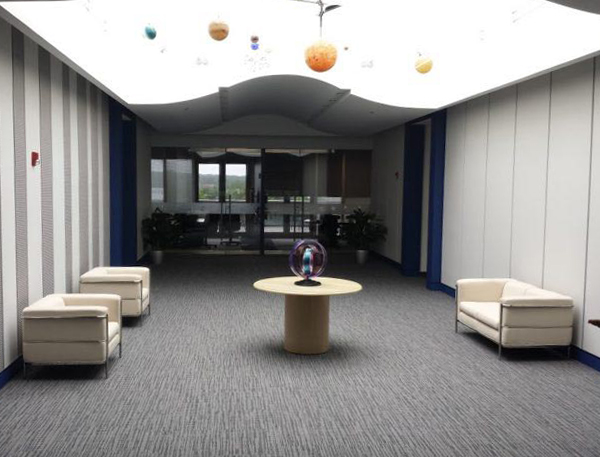 At Eagle Mat, we build lasting, positive first impressions from the ground up. We offer a market-leading selection of high-quality commercial carpeting and flooring products for facilities and businesses of all kinds, including:
• Woven and broadloom carpeting
• Carpet tile
• Luxury vinyl tile
• Commercial floor and entrance mats
• Logo mats
• Rubber flooring
• Sports flooring
• Engineered hardwood
We work closely with each customer to develop customized carpeting and flooring recommendations and solutions best suited to their needs, priorities, brand images and budgets. Our products help businesses and property managers create clean, safe, and professional-looking spaces. We believe that prioritizing employee comfort and customer experience is instrumental to a business's long-term success.
Our carpet and flooring consultations go far beyond showing samples or discussing product options. Through advanced imaging technology, we can produce digital renderings on-site that give property managers and business owners a preview of what a proposed solution will look like when installed in their facility.
Eagle Mat & Floor Products offers an extensive collection of premium mats, carpeting, and flooring solutions that are superb for those who desire unparalleled quality. We are experts at specifying the right product for your commercial flooring projects.
Contact us today at (301) 762-2000 or sales@eaglemat.net to speak with a member of our knowledgeable sales team about how we can help you create the first impression that will leave a lasting impact.
Eagle Mat & Floor Products is family owned and locally operated, providing sales and installation of commercial flooring products to the Washington Metro area for 40 years. We specialize in renovating and retrofitting facilities in the Corporate, Education, Hospitality, Multi-Family and Government spaces.