A safe and nurturing environment where students can thrive is critical. Eagle Mat & Floor Products specializes in providing the right flooring for schools from early childhood through college in the Washington Metro area. From classrooms to locker rooms to common areas and offices, our flooring products and services are designed to create beautiful, comfortable, flexible spaces that facilitate productive learning and positive experiences for private and public schools.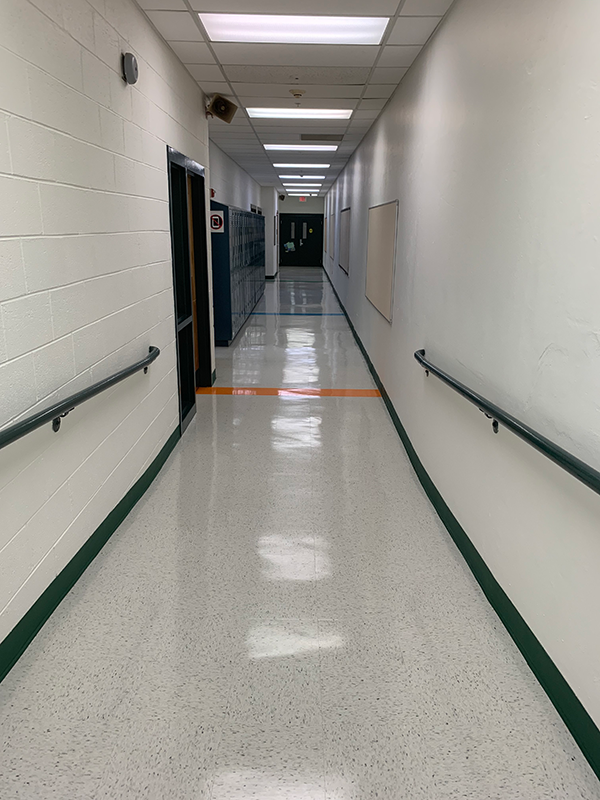 School floors take a lot of abuse, with hundreds or thousands of students traversing their school's halls and rooms every single day. The flooring solutions that administrators choose must be able to stand up to such constant foot traffic, but also need to enhance health and safety and leave a positive impression on students, parents, and visitors.
The smart move when selecting school flooring solutions is to work with a flooring specialist like Eagle Mat who regularly delivers and installs floors and carpeting in educational institutions and facilities.
How To Plan, Select, and Install the Right School Flooring
As any educator knows, research is a core element of learning. So is asking thoughtful questions. The same principles apply to flooring selection. As you start looking into flooring vendors and options, you'll want to ask the following questions:
Can the flooring handle the daily wear and tear of stampeding children coming and going constantly while still looking good years down the road?
What kind of warranty does the flooring manufacturer provide?
Which federal, state, and local health and safety codes and regulations must the material and flooring comply with?
How long will it take to install, and what steps do I need to take to prepare for installation?
Does the contractor you are considering have experience with school flooring installation, and do they use products from a manufacturer that produces products specifically designed for use in schools and educational facilities?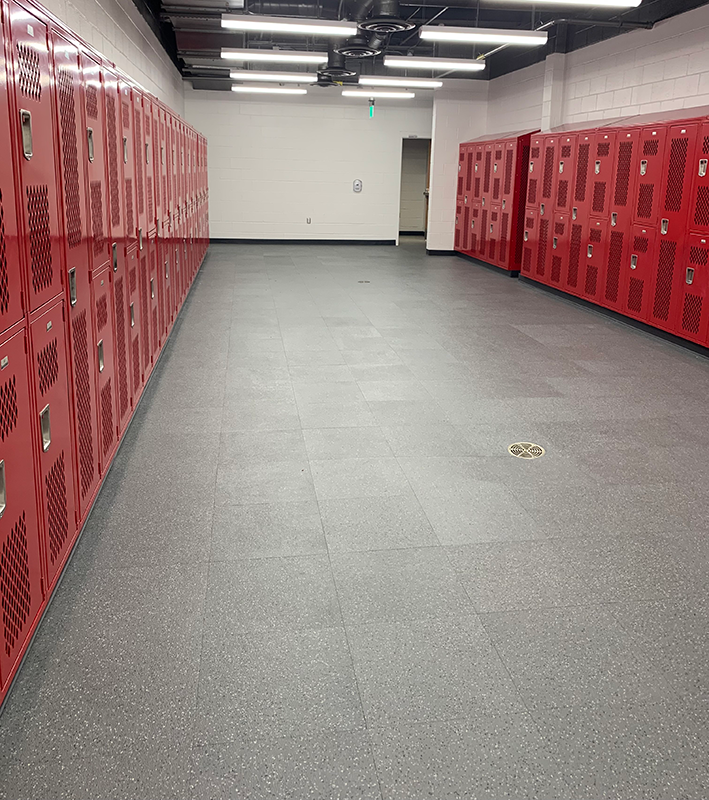 School Flooring Solutions from Eagle Mat & Floor Products
At Eagle Mat, our flooring products and services are designed to create beautiful, comfortable, flexible spaces that support productive learning. We often recommend Carpet Tile and Luxury Vinyl Tile (LVT) solutions as great options for schools and universities. Tiles can have a variety of applications and come in a variety of colors, styles, and designs. They are also typically more cost-effective and easier to repair than many other flooring options.
Carpet Tiles for Schools and Universities
Carpet tiles are built for long-lasting performance and offer numerous design options. If they become damaged or stained, individual tiles can easily be pulled up and replaced without the costly and time-consuming need to remove a large area of carpet. Carpet tile can be installed under modular furniture stations by vertically lifting the stations, eliminating the cost and time needed to disassemble and reinstall furniture. Our quality carpet tiles are guaranteed not to edge ravel, delaminate, shrink, cup, or dome.
Luxury Vinyl Tiles (LVT) for Schools and Universities
Our beautiful and durable luxury vinyl flooring lines come in natural stone, wood, and abstract looks. They are available in tiles or planks with many design options to enhance the aesthetics of your space. Our manufacturers stock abundant inventory with lots of quick-ship options. We also offer many LVT styles that are manufactured right here in the USA.
At Eagle Mat & Floor Products, we offer an extensive collection of premium mats, carpeting, and flooring solutions for schools and districts that want unparalleled quality. And our 100% Price Match Guarantee will help you find the products you need at prices that are simply unbeatable.
Contact us today at sales@eaglemat.net 301-762-6000 to speak with a member of our knowledgeable sales team about how we can help you, your teachers, and your students create the perfect environment for learning.
Eagle Mat & Floor Products is family owned and locally operated, providing sales and installation of commercial flooring products to the Washington Metro area for 40 years.
We specialize in renovating and retrofitting facilities in the Corporate, Education, Hospitality, Multi-Family and Government spaces.